GreenGeeks Review 2021: Web hosting is the most crucial aspect for a running website for its success. Greengeeks is one of the most popular brands in the Web hosting industry. Undeniably, it is well known for its fast performance and 24/7 customer support facility. It offers one-click WordPress installation and gives a choice of over five different data centers: this time, it's working amazingly and powers over 600,000 websites and customers all over the world. Overall performance, speed, and support system are fantastic and always ready for their customers.
About GreenGeeks

Trey Gardner founded this US-based company in 2007. Since then, it has got a massive response from its customers and reached a high level in the Web hosting providers' market. Although it is one of the most unique environmentally friendly hosting providers, use particular techniques and methods to reduce their carbon footprints. The whole team has 40 years of experience in providing high-quality web hosting.
However, it has become a robust green energy hosting business.
Moreover, 615,1000 kW/h annum of energy is replaced by green power in wind energy by the hosting server GreenGeeks. As a result, they are playing a role in saving the environment.
In this way, they become at the top as an eco-friendly hosting provider and don't support polluters. They have got many awards for their masterwork and nominates the best eco-friendly hosting provider that made them come top in the industry.
Features of GreenGeeks hosting
GreenGeeks Review 2021: GreenGreeks has focused mainly on customer's needs and work for their satisfaction. For good web hosting, primary considerations such as reliability, pricing, customer support system, and hosting scope are necessary. Now let's see whether GeeenGeeks give features satisfactorily in their hosting for customers or not.
GreenGeeks is famous for its contribution to make the planet cleaner and greener as its name. And here we will see some unique features that are provided by it to their customers.
Some unique features of GreenGeeks
Unlimited SSD Webspace
Unlimited domain on one account
Free site builder
Wildcard SSL certificate for free
Free CDN integration
Nightly backups for free
eCommerece friendly
Live customer support
Migrate your website for free, free web transfer
Servers are powered by lite speed and PHP7, DB, HTTP3/QUIC
Power catchers built-in caching technology
Provides 30-day refund policy
These all were the basic features provided by GreenGeeks with all of its web hostings. Along with them, it also offers a high-quality feature in its Priced plans that can be taken by anyone to make their website more usable.
Pro and Cons Of GreenGeeks Hosting
Every Products and Services have their own Pros and Cons and so GreenGeeks have thier as well. Let's have a detailed look at the Pros and Cons of GreenGeeks Hosting service. 
GreenGreeks Review 2021: Pros
GreenGeeks have the best quality as a web hosting provider for all kinds of websites. Here in this GreenGeeks Review, we will get to know about its Pros that make it number one;
Highlights of Pros of Greengeeks
Environment Friendly
Faster Speed
Uptime
Unlimited features &  Resources, Really
Professional Support
Clean and Handy Interface
Data Privacy
Refund Policy
Environment friendly
You know your web hosting also works as a polluter. And in contrast to that, GreenGeeks have outstanding features and offer environment-conscious hosting. Also, it is recognized as an EPA green power partner.
Therefore Greenkeeks claimed to be the most eco-friendly hosting provider. Not that enough, it has got several awards and official partners with the US-based environmental protection agency. By taking GreenGeeks as your web hosting provider, you also can play a role in a clean environment.
Faster speed
What does a website holder want from a hosting provider? Undoubtedly the first thing is the speed, and GreenGeeks has an excellent rate up that is so impressive. However, it covers 5 data centers worldwide, 2 in the US, 1 in Canada, and 1 in Amsterdam.
For this, it doesn't matter where you are, and you will get high-speed efficiency. You also find further software optimization to keep the website light. For a website, speed is a must thing that can tell about its performance in the market and make a speedy website a server is necessary, but that server should have a speed optimization system to manage your website.
Uptime
How could we forget about Uptime in GreenGeeks Review. It's uptime can indicate a web hosting provider, that is, how reliable a host is and how well it can manage its servers. For sure, with a 99.9% uptime, GreenGeeks guarantee the best reliability.
With this uptime, you can take an idea about the hosting provider GreenGeeks, how they handle customer needs seriously. Uptime determines a host's managing power of their server, and your G2 is giving incomparable uptime.
Limitless features and resources
Importantly, you get what you pay. Although your GreenGeeks give a lot of valuable features and resources to make you satisfied. Even if you take a shared hosting plan, you get unlimited SSD web space, complete data transfer, unlimited domain, free migration, and many more.
Professional support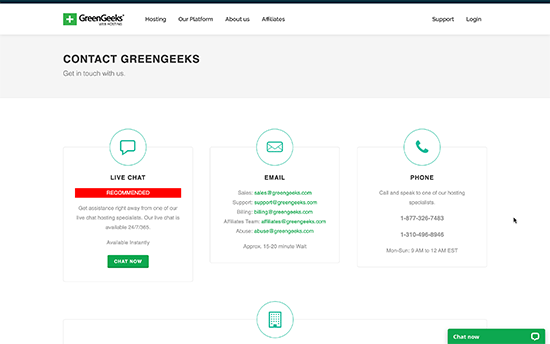 GreenGeeks management team had 40 years of experience in providing the best web hosting. You get customer support 24/7, includes contact via mail, phone, and live chat. Anyone who is a customer of GreenGeeks doesn't need to worry about being unconvinced; the GreenGeeks team is ever ready to listen to their customer and make a good relationship.
Handy interface
It doesn't matter whether you are a beginner or an expert; GreenGeeks has a user-friendly interface that anyone can easily use. For any of the devices and technology, the interface is necessary, but it is useless if the user can't understand what to do next. So whether a starter or expert, both can find options and interface understandable.
cPanel makes it very easy to download and install much useful software that makes it more impressive.
Softaculous
For small business websites, that's a good prospect, which uses many popular e-commy on their website like Shopify, magneto, etc. Softaculous makes it easy to install 3rd party apps to make you perfect in your website using and running it properly.
Data Privacy
GreenGeeks know well about the need for security for your data. As they keep their promise seriously and keep your website secure. For any of the users, the most important thing is privacy, and those who don't care about customers' privacy share it by believing them. Those companies can't go long in such a market. And GreenGeeks takes privacy security more solemnly. To such an extent, it gives full data privacy.
Refund Policy
GreenGeeks gives an unquestioning 30-day money-back guarantee. If you are not satisfied with their service, you can get your whole paid amount back. So you can test GreenGeeks for an entire month without wasting your money. Because you'll get it back to you if you don't like their server.
GreenGeeks Review 2021: Cons
GreenGeeks is a superb Web hosting provider that offers free web builders, a handy interface, and other advantages. But no-one is perfect in this world. While it's a hosting provider. Here we will see a few downsides of GreenGeeks in this review as well.
Highlights of Cons of GreenGeeks Hosting
Phone Support is not available for 24/7
No setup and domain fee covered in the refund policy
Cheapest hosting available for three year Plan only ($2.95)
Don't take 24/7 support seriously
They are well known for their customer support services via email, chat, and phone. But don't rely only on a phone call. You'll be disappointed. They make their experts live from 9:00 am to mid 8 EST. You have to go by email for professional support, and indeed they will contact you back but don't make a live call so seriously; maybe it can hurt you.
No setup and domain fee covered in the refund policy
If you are disappointed in their web hosting, you will get a full refund except for the setup and domain name registration fee. That means you can't play with them if they refund you. You must be serious about making relationships as a customer and don't think you will get all your money back.
Misleading price
Cheap shared hosting is easy to come upon. Nonetheless, cheap hosting is not always of the best quality. Foremost you get what you pay for. And here, GreenGeeks offers the best facility and is a well-grounded hosting company that provides low price web hosting. But not the same quality with every hosting plan. There is no chance to get that high of features at a low price. Yes, it gives all the best features, but you have to charge a little more for some unique features.
Expertly, from GreenGeeks, you get $2.95 per month hosting when you agree to pay that amount for the upcoming 3 years of service. If you buy it for one year, then you have to pay $5.95 monthly. And you want to pay monthly until you can assure about the suited quality web hosting, then you have to pay $9.95 per month.
GreenGeeks Review: Performance
For many years, GreenGeeks has been working as a web hosting provider in the industry and doing so well. Forgiving GreenGeeks review is necessary to check its features and facilities provided to the customer. In my opinion, this is the best for everyone and doesn't mean beginners or experts. GreenGeeks's user-friendly interface can be the main reason for its popularity, don't forget eco-friendly hardship.
If we are going to talk about its performance, then we must consider speed first, GreenGeeks offers 445 ms speed that has been tested by an expert, and undoubtedly no one can beat that. Uptime 99.98% makes it so reliable and trustworthy. Who can forget the prattling of its customer support system? That makes it the best and helps Web hosting providers and believe in the industry.

With all that it's apps like Joomla and WHMCS are working well. The feature is offered by GreenGeeks, like storage, free domain, SSL certificate, site transfer, and many more, to its customers, taking it to the top of the industry of web hosting providers. GreenGeeks are giving the best experience to the users. Altogether it provides 24/7 monitoring security to protect the website from any malware threat.
Not only this, you get an excellent full security backup and help GreenGeeks to go ahead towards the success stairs as the best hosting provider: another side, affordable prices for plans keeping it on the top and admired by customers. GreenGeeks is now a leading company of Web hosting providers. And improving timely to make satisfied customers.
GreenGeeks Review: Hosting Plans
GreenGeeks offers several kinds of hosting, take a quick view;
Shared Hosting
WordPress Managed Hosting
VPS hosting
Reseller Hosting
Shared hosting
You take a web server that is shared by other website owners too. Like a house's rented apartment, you find a place but have to share with others necessarily. There you shared space by all accounts on that server, and this is the best for new starters.
VPS hosting
You get a private server where resources are provided to your conserve only for you; none of the others can occur. It is the best choice for professionals, and Even Everyone wants a private space even in a house and in the world of website markets; who doesn't want a particular server? VPS fulfills that need and maintains specialized space for your website.
Reseller hosting
You will be able to manage multiple accounts on a website. From this, you can generate revenue and can make Web hosting agencies online. That reselling allows you to work with the same hosting provider company, and with your growth, that company grows too. It is best for those who want extra revenues with their sites and can work with such a huge hosting company.
GreenGeeks is the most popular web hosting provider as we know that, and it offers various kinds of hosting based on every individual need. Here are the price and hosting plans of the GreenGeeks.
GreenGeeks Review: Pricing
Here are the Detailed explanation of Pricing available for GreenGeeks Hosting:
Shared Hosting
If you are going to start new and want to get web hosting that can give you some experience with better functionalities, shared hosting is best for you. Includes everything you can need or want.
GreenGeeks provides shared web hosting plans and gives the best features. As a starter, you can go for shared hosting to take some experience; it will be better. Before going more down, let you know about some basic features offered in every plan if GreenGeeks shared hosting plans.
Support for an unlimited number of domains
You can create many websites
Unlimited SSD storage space
Free transfer of domain name
Free web builder
Unlimited, secured email
Free CDN
Encrypt wildcard.
That all was about the basic features that come with every plan of Shared hosting by GreenGeeks. But as we have discussed earlier, more charge targets more segments.
Now Look at GreenGeeks' pricing and plans for shared hosting.
Eco site starter That demands $2.5 per month. Let's encrypt wildcard, standard speed performance, 100 emails per hour, and no PCI compliance
Pro, You have to pay $5.95 per month, let's encrypt wildcard, 2× speed, power cacher, 300 emails per hour, and no PCI compliance
Premium, For this $11.95 monthly, Premium wild card, 4× speed, power cacher, 500 emails per hour, and PCI compliance.
VPS hosting
A virtual private server is the best for those who want a dedicated server's benefits without the cost, unlike a shared server where you share a hosting that can be a reason for your website's slowness. Contrary to VPS, you have virtually separated the server from other sites.
Moreover, it provides the best way to keep your website secure and fast. GreenGeeks provide different types of hosting plans that can come wisely according to their level of storage and bandwidth.
Before going to plan and pricing, there are some features that GreenGeeks offer with every plan of VPS hosting.
RAID 10 SSD
CSF Firewall
Built in php/MySQL optimization
Free migration
Root access
Pre installed Cpanel/ WHM
Upgrade or downgrade service
VPS hosting prices are different by RAM storage and bandwidth. Remember, the above features are the same for all. That means it is not a matter of which plan you buy; you will get all those basic features. And according to GreenGeeks' pricing, it gives some unique features. Here are the plans
Lite:
$39.95/ month for 1 GB RAM, 25 GB SSD RAID 10 storage, 1000 GB bandwidth and 4 cores provision in
Pro:
$59.95/ month, 2 GB RAM, 50 GH SSD RAID 10 storage, 1500 GB premium bandwidth and 4 cores provision in
Premium:
$ 79.95/month, 3GB RAM, 75 GB SSD RAID 10 storage, 2000 GB premium bandwidth, and 4 cores provision in
$99.95/month, 4GB RAM, 100 GB SSD RAID 10 storage, 2500 GB premium bandwidth, and 4 cores provision in
$159.95/month, 8GB RAM, 125 GB SSD RAID 10 storage and 4 cores provision in
GreenGeeks vs Siteground
GreenGeeks Review: GreenGeeks is on the top as an eco-friendly Web hosting provider based in California, the US, and globally. They are committed to your data privacy and provide a faster web host with unlimited SSD storage and CDN Cloudflare. All know, as an eco-friendly company, it plays the right role for a greener environment—counterbalance carbon footprint from its data centers and form of renewable energy.
WordPress Recommendation
Siteground, WordPress officially recommends Siteground as a web hosting provider. Siteground has 3 data centers in the USA, Europe, and Singapore and allows you to choose data centers while buying a hosting.
GreenGeeks and Siteground are the best web hosting companies and offer the best features and a great experience. Both of them have extensive experience in Web hosting management systems. How a company manages all the customers and queries can determine its dedication to the industry's best one.
As GreenGeeks has an eco site starter, pro, and premium. Same as that, Siteground also offers 3 plans, Startup, GrowBig, and GoGeek.
With both of them, we get cPanel hosting, 99.9% uptime, and incredible customer support. Moreover, they both give 30 days refund policy. In both of them, you can aspect some unique features to impress and win their customers' trust.
Like, GreenGeeks give free domain names for first year and plug SEO and marketing tools for your site. On the other hand, Siteground offers free Cloudflare CDN. Every hosting company tries to make their customers happy and satisfied with their service.
But what's the catch?
They both are good. For this confusion which one is perfect, no one can do anything. Everything has its downsides and upsides and we already have covered the Pros and Cons of GreenGeeks earlier in this post.
Still, we tried to make you understand something to you in an easy way; if you want environment friendly hosting so that you don't come in the line of polluters, then go for GreenGeeks, sane as its name suggests. GreenGeeks gives you the facility to host unlimited domains, and it provides you unlimited webspace data transfer.
You need a fast website and believe in cacher technology to optimize your site, then Siteground is the one only for you. You get cacher technology for better optimization, and along with that, you can manage to host WordPress and Joomla. That is unique in that and makes it different from GreenGeeks.
Still, I would say we can't know one is terrible and one is best. They both offer various features, try to make their customers happy, and both are differently better than each other. GreenGeeks vs. Siteground is not proposed to create a hosting company down; it only represents features differently.
It is on you which facility suited your needs and what you want in your site, and they both are working well in the Web hosting providing industry, and for many years they are experiencing customer needs and trying to become the best.
FAQs about GreenGeeks Review 2021
Where is GreenGeeks located?
GreenGeeks have multiple data center locations. They have servers in Chicago (United States), Phoenix (United States), Toronto (Canada) and Amsterdam (Netherlands).
Is GreenGeeks hosting good?
GreenGeeks is the #1 Green Hosting which provides great Uptime and Loading Speed. They also provide top-notch Support for their user. Overall, GreenGeeks is a Good Choice
How could I contact GreenGeeks?
GreenGeeks has great support and you can contact them via Live chat, Support Ticket as well as on Phone. Apart from that, GreenGeeks have a vast, helpful and easy-to-understand Knowledge base.
Does GreenGeeks provide a domain name?
Yes, you will get a Free domain for 1 year with any plan of GreenGeeks Hosting.
Will I get Unlimited webspace with GreenGeeks?
GreenGeeks provides unlimited webspace with every Plans. Unlimited webspace is offered in all three plans, Lite, Pro as well as Premium
Can I upgrade my hosting plan later?
You can upgrade or downgrade any plan you select while purchasing. You just need to contact the Support for the same.
Can I migrate my existing website to GreenGeeks?
Absolutely, infact GreenGeeks provides free website Migration and a dedicated team of experts to migrate your website from your existing Hosting to GreenGeeks
GreenGeeks Review: Let's wrap it up!
GreenGeeks Review: After seeing GreenGeeks features, hosting plans, GreenGeeks pricing, performance, and other things. What can we conclude? We can say it is the best but can't say it is perfect as we have compared it to another Web hosting company Siteground. But it doesn't mean it has become less valuable now.
By grasping some knowledge about GreenGeeks, you can see it as the best web hosting provider company that charges an affordable price for their hosting plans.
Most attractive is their technology that reduces carbon footprint and helps to make a clean environment. Customer support is the best thing given by that hosting company. In short, it will be useful if you choose GreenGeeks hosting for your website. It will surely make you satisfied and give you full security.
That all was about GreenGeeks , an awesome web hosting provider. I have added mostly things in this and tried to explain well. Thanks for reading this; you can share the GrenGeeks review with your friends who need that. And I hope it was helpful and valuable.